GoodLife Receives Well Done! Award
The Capital Area Wellness Coalition has awarded GoodLife Programs & Activities with the Well Done award for "Community Wellness Effort". These awards recognize wellness activities taking place at worksites, initiatives of community groups, and the leadership of unsung wellness heroes within our community who are making a difference in creating a culture of health and wellness. The CAWC is dedicated to promoting opportunities for healthy food choices and healthy eating education, accessible and available recreation.
Our cardio instructor Trieste Philbrook was also honored at the ceremony.  She received the "Wellness Hero" award for  inspiring others to make positive, healthy changes in their lives.
The award was presented by Mayor Bouley at a breakfast ceremony at Delta Dental on May 17th.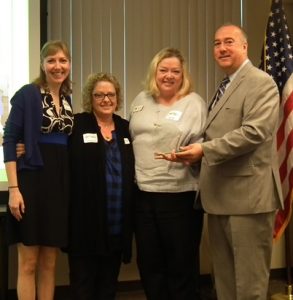 From left to right: Susan Greenblott, Lori McKinney, Holly Hale and Mayor Jim Bouley