Concord to Have New Senior Center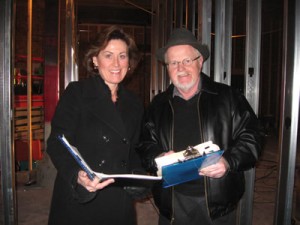 CITY TO HAVE NEW SENIOR CENTER
Concord, NH – The city will soon be home to a new senior center, a cornerstone initiative of efforts to expand programming and grow as an organization in order to provide aging adults with meaningful opportunities for engagement.
The Centennial Senior Center will be moving from its current home on West Street to newly renovated space at 254 N. State Street in the Smokestack Center in early April. The 4,400-square-foot space, which is being leased from a local owner, was designed to meet the Center's specific needs, with enough flexibility and adaptability to address changing demographics and priorities. The space is all on one floor, with offices, classrooms, an informal sitting area with a fireplace, a large meeting space and nearly two dozen parking spaces, making it very accessible. The Center will become a much-needed resource in the community, according to the executive director.
"We are so excited about this new location as it will truly allow us to support people as they age through activities, education and advocacy, with an end goal of improving the quality of life for everyone," said Centennial Senior Center Executive Director Vivien F. Green. With nearly 14% of the population in New Hampshire over the age of 65, Green said that the demand for a senior center in one of the state's largest cities is great. She said the senior center's leadership took a thoughtful and careful approach to designing a new senior center, wanting to ensure its sustainability and ability to adapt to the ever-changing needs of our aging population. Over the course of two years, various options were examined, focus and listening groups were held and surveys were distributed seeing input from all parties.
Said Green, "The new Centennial Senior Center will be unique in that it will cater to people age 50 to 100 or more and will offer traditional as well as non-traditional activities, supporting people as they age with a multi-generational approach."
As the center grows over the coming months, health and wellness activities will be complemented by job training and meaningful volunteer opportunities to meet the needs of the growing number of seniors and new retirees. Classes will be designed to meet the physical, emotional, occupational, social, financial and spiritual needs of mature adults. Programs will also be offered for caregivers and the Center will provide professional development opportunities for those in the industry. In addition, the Center will have a strong technology component, with the ability to utilize webinar, video and teleconferencing, further extending its reach and impact. "Collaboration is key," said Green. "The Centennial Senior Center is looking to partner with area organizations including AARP, the Concord Regional VNA, Concord Hospital's Center for Health Promotion and the City of Concord to ensure varied opportunities for seniors as well as the smart allocation and management of resources.
"The new Centennial Senior Center is tentatively scheduled for an early April opening, with a grand opening and ribbon cutting celebration to follow."We are passionate about supporting seniors of all ages and the new Centennial Senior Center will engage in collaboratives and partnerships with those entities already providing services and resources to improve the quality of life for seniors living in the Greater Concord area, which will in turn provide for a stronger community," said Green.