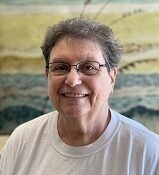 Natalie Allen
Natalie joined the GoodLife staff as the Administrative Assistant in July, 2022. She holds a B. A. in Sociology from Bates College and an M.B.A. from Plymouth State University, specializing in organizational behavior.
Natalie retired 14 years ago from the NH Dept. of Health and Human Services, serving in a variety of positions including social work, human resources, and administration. Since retirement she continued to work part-time in post-adoption services, special education investigation, and fuel assistance.
In the past she served as Board Chair for Ozanam Place and Upstream and as a board member for the Lakes Region United Way, the Merrimack County Visitation Center, and the State Long-Term Care Ombudsman Program. In her free time she enjoys quilting, reading and communing with her dog.