Wilson Success Story: Holly Hale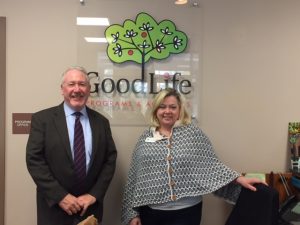 For nonprofits of any size to succeed, they must possess several key attributes, including a clear mission, financial support, and strong leadership. The Centennial Senior Center GoodLife Program in Concord, NH had all of those attributes until its Executive Director relocated with her fiancé to North Carolina in January 2016, leaving the GoodLife Program with the challenge of finding a qualified replacement. It took six months, but with the help of Wilson Employment Networks and the luck of the job posting catching the right person's eye, a strong leader has been back at the helm at The Centennial Senior Center GoodLife Program since June 2016.
The GoodLife Program promotes a community where seniors are engaged, supported, and have access to opportunities that enhance their wellness. Even though the program is well respected in its community and has achieved several commendations for its work, recruiting a skilled leader who was an ideal cultural fit for this small, four-person nonprofit was proving difficult. Because the Wilson Employment Networks team believed in the positive and important mission of the organization, its leadership team viewed this recruitment as an opportunity to give back to the community. Wilson stepped in and took over recruitment efforts, donating its time and services to market the position, review more than 55 resumes, prescreen ten candidates, and interview the top four qualified individuals.
Among the top four was Holly Hale. She was casually looking through job postings when she came upon the one Wilson created for the position. Holly said, "Occasionally, I troll through Indeed.com with no real purpose, and that's what I was doing when I found this position. I thought, 'Here's an opportunity to work with a nonprofit and with a demographic I love – the elderly. Now that sounds interesting!'"
To say she was qualified for the position would be an understatement. A year prior to joining GoodLife, Holly started her own company, Dementia Resource Group, which produces themed reminiscent therapy bags for those with dementia. In addition, she spent 15 years in senior health care as executive director of several assisted living facilities specializing in dementia. The position with GoodLife would afford Holly the ability to continue working with senior citizens and still leave time for her to run her company.
She sent an introduction and her qualifications to Paul Wilson, who interviewed her right away. Paul then set up the interviews with GoodLife—five different interviews, to be exact—and acted as the liaison between her and the organization. Holly recalls, "I appreciated the vetting process because for a small business like GoodLife, it's really important to find the right person."
Holly was offered the position and started shortly thereafter. She couldn't be happier in her new role. "It's a super easy commute from where I live, being closed on weekends and holidays makes it conducive to having a nice lifestyle, and I just love working with this population of people."
Although she is thrilled she decided to move to New Hampshire from Texas four years ago, her career change and working with Wilson makes the decision seem even better. "I would certainly recommend Wilson," she said. "Our receptionist, Lori McKinney, also came to the organization through Wilson. She's the first face people see when they walk through the door, and it's important to have a happy person as the greeter. And who couldn't be happy here? GoodLife is just a lovely place to be."